Electric mobility - towards a clean future
Electric Mobility - Safety and Homologation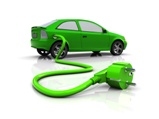 The basics for vehicles with electric engines have been defined; now each of us is asked to ensure in this framework an ambient friendly and safe E-Mobility.
In order to allow you - as a manufacturer of whole vehicles or components - to implement in the best way the requirements of this new technologies our experts are availalbe to advice you.
We offer you our great experience and highes expertise to questions and explanations about:
Safety of the E-Vehicle
Road Traffic Legals and Approvals (Homologation)
Product tests
With FAKT you are on the safe side!